Annapurna circuit, the pass
24.11.2019
@Nepal 🇳🇵
day 65
Starting on the path to Yak Kharka, after a good day of rest, in the new company of Elena, also coming from Spain. The way is easy, and after what seemed a very short day, almost too easy, we arrive at our destination. We got used to the altitude, so it is almost frustrating to stop that early. But this is the best choice to avoid altitude sickness, so we stick with it, and enjoy some nice scenery. Playing cards keeps us entertained, and suddenly we feel quite tired. The altitude is playing its role, and we don't wait long until we go to bed.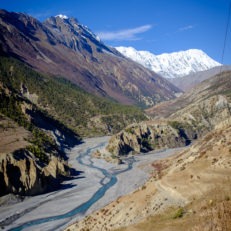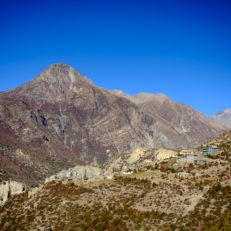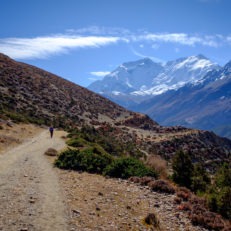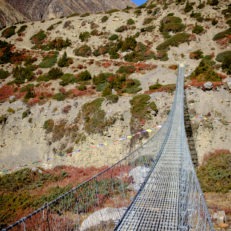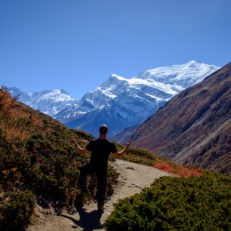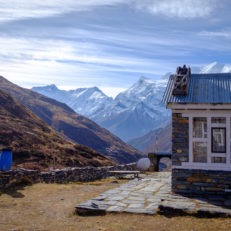 | | | | | | | |
| --- | --- | --- | --- | --- | --- | --- |
| Day | From | To | Distance | Positive elevation | Altitude change | Time |
| 9 | Manang | Yak Kharka | 9km | 500m | +500m | 3:00 |
What a shitty night! I couldn't sleep that well, and woke up twice, gasping for air, feeling oppressed, trying to catch my breath. The heavy blankets didn't help, I dreamt of very weird stuff, and I woke up quite tired. Let's hope the next nights up here will be less of a bad experience.
Yet again, today felt too easy for us. We couldn't really get tired of walking, because our breath ran short way before we could produce a real effort. It is a good lesson to experience such altitude, and the way it changes the type of effort you have to produce while hiking.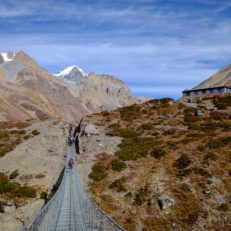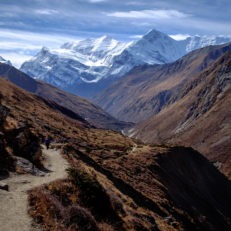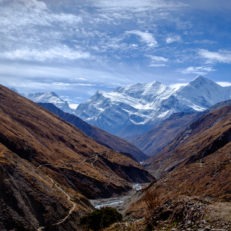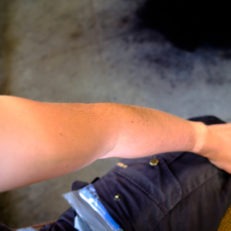 Board games fill our afternoon again, and we end up our day in a singing moment with all the people here (mainly a big group of Russians), laughing and clapping together. One Mongolian girl even share with us some Mongolian throat singing. Definitely a perfect positive evening before the early morning to come. Tomorrow is the big day. We are at the feet of the Thorong La pass.
| | | | | | | |
| --- | --- | --- | --- | --- | --- | --- |
| Day | From | To | Distance | Positive elevation | Altitude change | Time |
| 10 | Yak Kharka | Thorung Pedi | 6km | 400m | +400m | 1:45 |
We wake up before the sun, at 4:30, have breakfast, and prepare ourselves for an early departure. Finally, we end up leaving at 5:30, which will turn out being more than enough with our pace. It's freezing cold outside, and we have to wear our full gear, including glove, to avoid inconveniences like frostbite on our fingers. We left quite late so there is almost no risk, but still, better safe than sorry!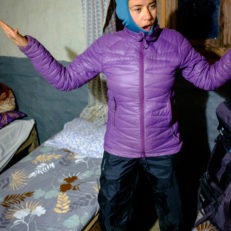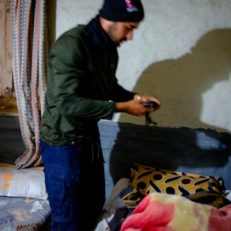 We start our ascend under the light of our headlamps, and make our way in rocky paths at a very slow pace, to save some energy for the rest of the day. Nevertheless, we pass quite some groups before the Thorung high camp. The sun slowly rises behind us as we continue our way, bathing us in its hazy warmth. What surrounds us is a moon-like scenery composed of rocks, massive mountains and small patches of frozen snow. The view is just breathtaking. Literally.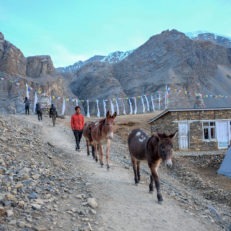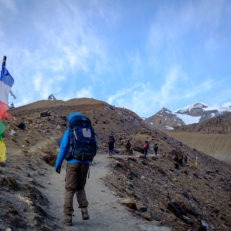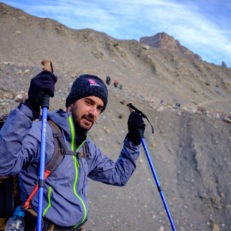 The rarefied air forces us to silence, and slowly we enter a trance-like state, mechanically walking like astronauts, our limbs feeling heavy. High altitude makes your movements clumsy, approximative, and we must take extra precautions to ensure not to slip down the rock slopes under us. Our body is busy taking us up there safe, letting some room to our mind to wander and drift. A motivation soundtrack accompanies me uphill (🎶🤘Bak XIII, Children of Bodom, Metallica, Iron Maiden, Deep purple).
Suddenly, in this extreme environment and experience, I find myself overwhelmed by emotions. Strong memories, feelings and images emerge from my mind, like a torrent, bringing me the tears again and again. I think of my parents and family, linked to me by a little GPS signal bouncing off a satellite high up in the sky, and how supportive, loving and proud they are. I feel blessed. I'm full of love. I see all the people and friend that showed up for my departure party, all that attention and care, the smiles and the laughs. I think of the people I lost, some way too soon. I think of all the kids that entered this world in the last years and filled my sisters and friends homes of laughs, curiosity and energy. I feel so lucky to be alive, to be here, to be me.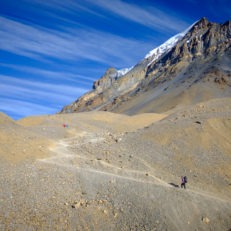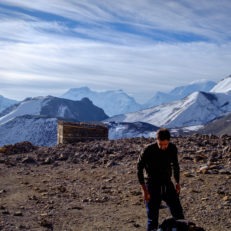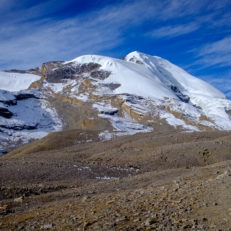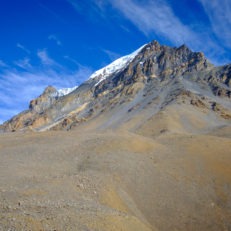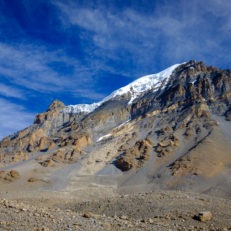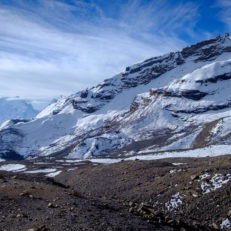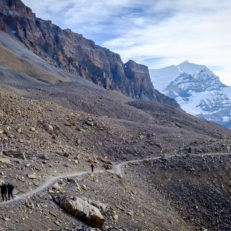 The effort is intense, hard, and we climb up in silence with Lena and Alex, supporting each other with some words each time we have a break and catch our breath. Slowly but surely, the slope gets more gentle, and we cross many little hills, hoping to discover the pass behind each of them.
Finally, we see it in the distance. It's there, surrounded by groups of exhausted people celebrating or enjoying a warm tea to regain the feel of their fingers. The feeling is incredible. A rush of emotions fills our brains and we celebrate, surrounded by a myriad of colorful prayer flags. I want some time alone. So I walk a bit further, kneel down, hang a string of payer flags for a friend I miss. I pour some whisky down on a stone as an offering, and let the tears freeze on my cheeks. I would have liked to share this one with you.
But it's time to rejoice! We take all the usual poses, pictures, share some celebration whisky, and enjoy some well-deserved times up this mythical place. That might be a once in a lifetime experience.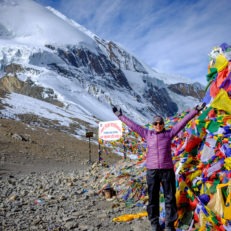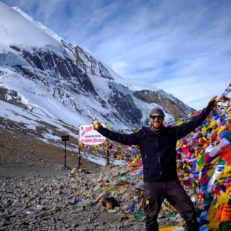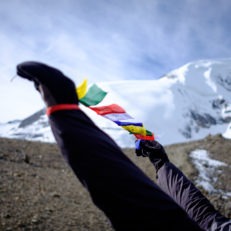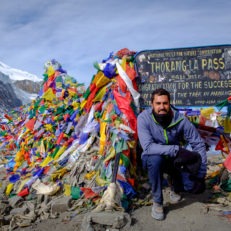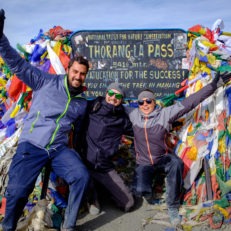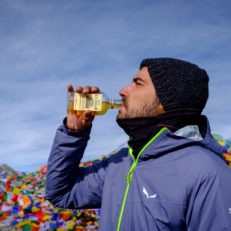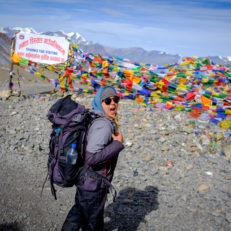 After some time, we head down, to avoid spending too much time up there at 5450m, and start our long journey down. It's a harsh way that takes us to Muktinath, walking through rocky terrain and steep slopes for 4 hours. My knee irradiates pain after an hour, and the rest of the way is a torture. So I just go down slowly, use my walking sticks as much as possible, and try to avoid unnecessary pain. This descent goes forever, and at some point I'm close to despair, but we finally make it. One again music helped me quite a bit to cope with the walk (🎶🧘Eddie Vedder, REM, Edward Sharpe, Cage the elephant).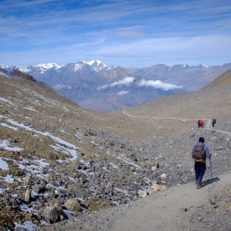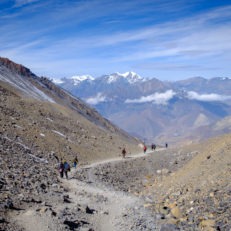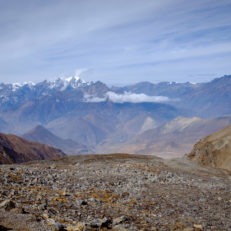 Finally, we arrive in Miktinath, drop our bags, and share a meal I'll remember for a long time! In the back terrace of the "Bob Marley hostel" (which I highly recommend), we taste some local Sherpa beer, and a delightful Yak steak that I couldn't wait to eat before even taking a picture of. A feast of kings, with a strong taste of victory, after a hard walking day we were so looking for.
| | | | | | | |
| --- | --- | --- | --- | --- | --- | --- |
| Day | From | To | Distance | Positive elevation | Altitude change | Time |
| 11 | Thorung Pedi | Muktinath | 16km | 1100m | -650m | 7:15 |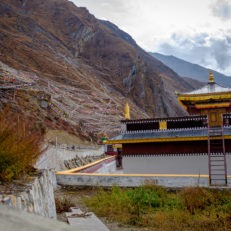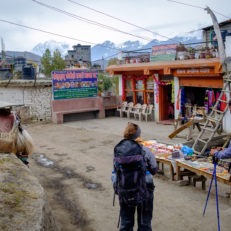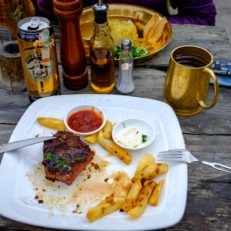 This day will be forever engraved in my memory.
#bucket-list
Cross the Thorong La pass
Climb above 5000m
Make it to one of the highest walkable pass on earth
---