Walking through Mordor
28.12.2019
@New Zealand 🇳🇿
day 99
Needless to say, my next adventure in sight turns me excited like never. I am to wander in the dark landscapes of Mordor, up on the side of Mount Doom (or Mt Ngauruhoe as it is also called) through volcanic landscapes and epic sights.

Sadly, after some research, we discover that tramping the whole Tongariro northern circuit was not going to be possible due to reservations. As this is one of the 9 New Zealand Great Walks and the beginning of the high season, things get pretty crowded up there.
The only option we find is to walk one day on the circuit, spend a night at a campsite, and then split up. I'll be doing the alpine crossing while Mélinda goes back on our steps to get the van and pick me up at the end of the crossing, mainly because her knee is hurting her when pushing too much on it (especially downhill) and that the crossing is quite demanding. Walking up and down a 1'000m mountain in one session is a bit much, but also the only option we have, so we head on the trail.
As we walk on the path, we are greeted with majestic views of Mt. Ngauruhoe, sitting there in all its splendor. The day goes by, as we get closer and closer, scuttling through the bushes. We reach our camping grounds at the foot of the mountain quite early, and decide to push on after having set up the tents, to enjoy the views from a bit higher. Slowly, the sun goes down as we admire the surroundings, and we prepare for a cold night in nature.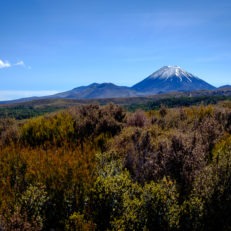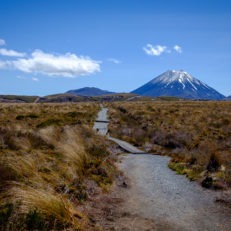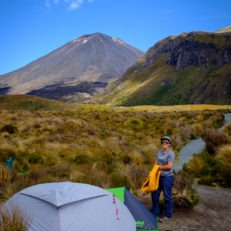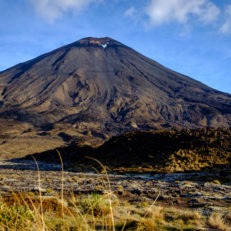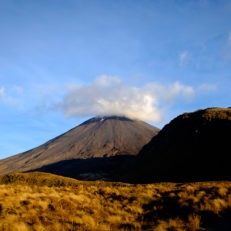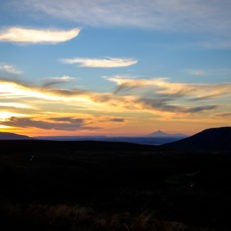 Time to split, and to hop on the trail again. It feels good to be alive! The day ahead is promising to say the least. Oh boy was I right when that thought crossed my mind. The volcanic surroundings of this mighty mountain are a very special place. The atmosphere is heavy, ancient, and if you ignore the mass of tourists having a daywalk here, you could really feel like you are walking on mars. Surrounded by dark rocks, emerald lakes and the horizon far away. I will let the pictures of this place speak for themselves. Enjoy the ride.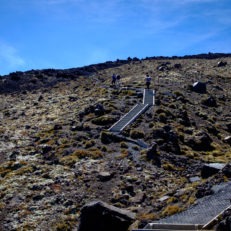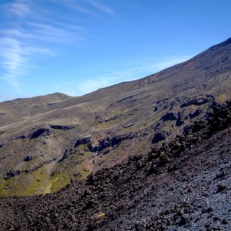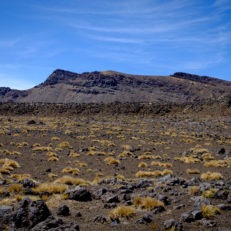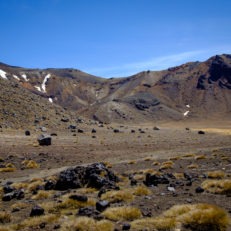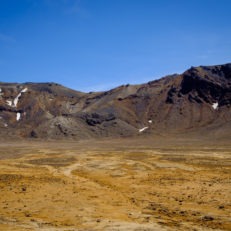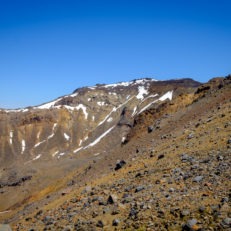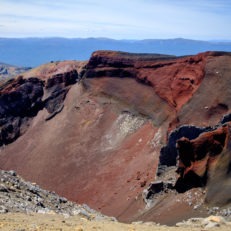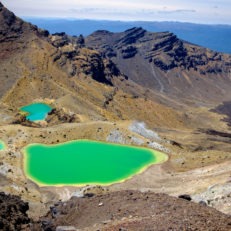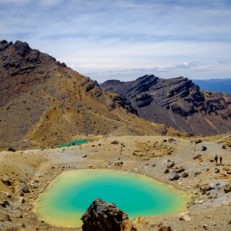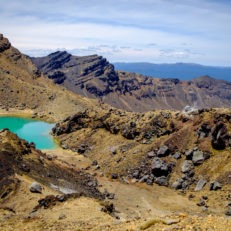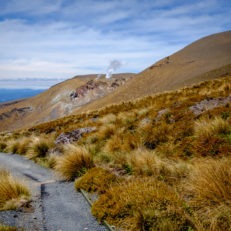 But even after such a day, filled with discoveries and surprises, I was not aware that a last friendly encounter would be put on our path, as Mélinda was a bit hurried to get to our next sleeping spot. After a nice talk about the region, the weather and motorcycles (especially Royal Entfields) with a local peacekeeper, we were set on our way with nothing more than a kind warning. Travelling is full of nice meeting that end up in funny pictures 😁

#bucket-list
Climb Mt. Doom
Get to know the local NZ police
---