A glimpse of Te Araroa
Time to hike part of the mighty Te Araroa (a 3000km path that goes through both of the New Zealand islands, from cape Reinga to Bluff). Mélinda is taking a break to let her knee heal for our next hikes, and, in the meantime, I took the opportunity to discover the Motatapu track, which conveniently sat just next to where we are.
Let's head on the trail! My plan is to hike from Glendhu Bay to Arrowtown in three days. That should definitely be doable, but I'll need to go through quite a long first day.
The track starts in a valley, full of sheeps and then follows the path of a river through a calm forest that starts a steady slope towards the heights of the surrounding mountains. The way up is a bit tedious, but I reach the first hut (Fern Burn Hut) quite fast, marking the half of my day of hiking. Already the mountains show themselves to me, announcing beautiful days to come, helped by the weather being just fantastic.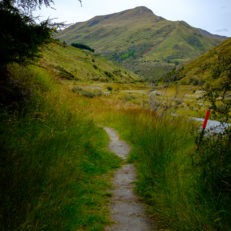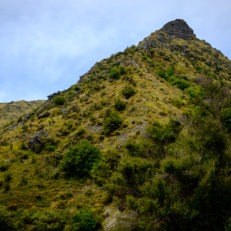 The hike is very calm, way less crowded than the great walks I've done so far. This leaves me more space to connect with the views, the mountains, to take my time and take in all what nature is giving me to contemplate. Before I begin to feel too tired, I already reach the Jack's Hall Saddle, sitting 1275m above sea level. The view that opens to me is a real piece of art. I sit up there, enjoying the view, and cross two hikers, Lise and Loic, with whom I share a happy moment of talks and exchange. They both are doing the South Island of the TA, and Lise even comes from Switzerland. Quite the coincidence we met there in the middle of nowhere!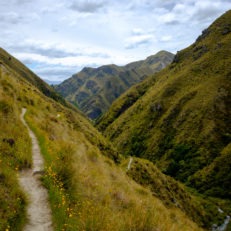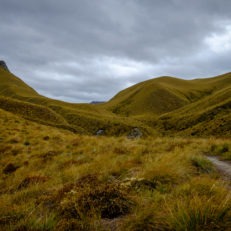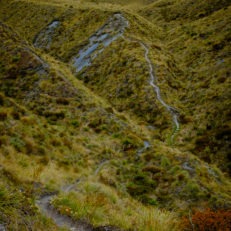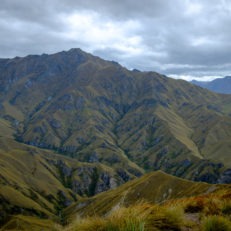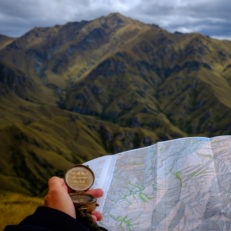 After parting with them, I go down a long ridge to reach the Highland Creek hut, ending my first day of walking. I feel fit and enthusiastic for my next two days! The hardest day is done! (Or so I thought 😅)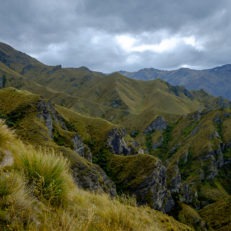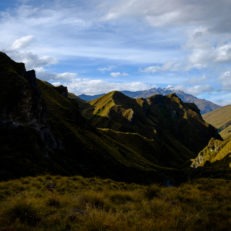 The way between High Creek hut and Roses hut turns out to be quite a more challenging effort than expected. It goes up and down above two 600m high ridges. I decide to enjoy some motivation music as I hike through these green and majestic mountains, and end up walking the track in 5h15 instead of 6-7 hours advertised, stopping numerous times to enjoy the view of these stony giants.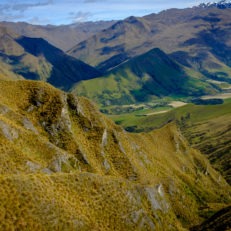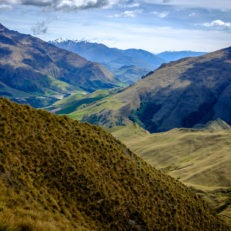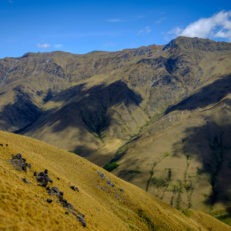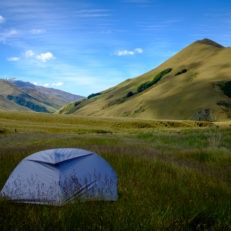 I am relieved to get at the hut, my legs hurt a bit, but luckily tomorrow will be an easier day (or so I thought 😅. Again 🤦‍♂️ )! Getting there, I meet Josh, a super friendly Kiwi hiker with whom I spend an hour talking before he takes off on the trail I just finished. Later today, I take more time to exchange with Andrea, a German woman who is hiking the South Island for charity. If you want to support her, please have a look at her website: https://sommerwende.de.
Waking up, I spend an hour looking at nature, the sun slowly changing the shapes and lights on the mountains in front of me. I feel at peace. I feel free. But sooner or later I'll have to go, so I put on my shoes and hop on the track!
I climb up directly to a nice saddle, giving a panoramic view of the region, to then go down a long way towards a valley and meet a river snaking at the bottom. I must take the high route as the water is very high, and the progress is quite tedious. Lots of mud, the way is quite wild, and I keep on looking further for the next orange post, progressing through vegetation.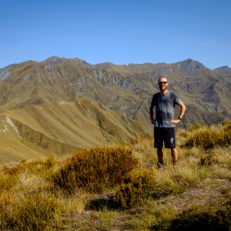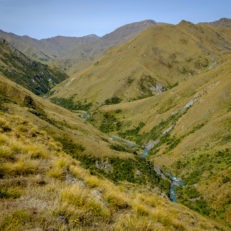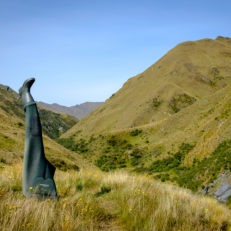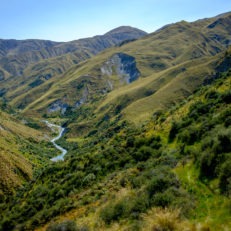 Later in the day, I reach Macetown, an abandoned Mining city, and realise that the day is going to stretch way longer than expected. The vegetation changes again, as colorful patches of flowers surround the stony river bed. Here starts the long chain of river crossings that forces me to take off my shoes, walk through ice-cold water and fight against the current. After around 7 crossing, I get to the point where I have to choose: either I continue along the Arrow river and fame around 22 (!!!) other river crossings, either I climb up on the Big Hill track thus adding time and elevation (1km up and down) to my day.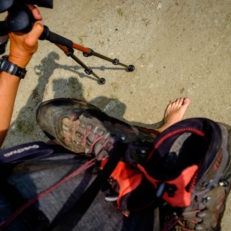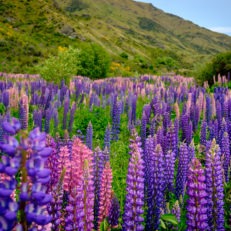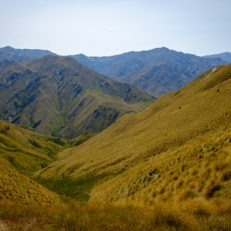 As I'm pretty tired of the river crossing exercise, I choose the latter option. It is not an easy feat to find the beginning of the Big Hill track, to say the least. I have to do some river crossings again, fight through patches of ivy, of thistle, of dense vegetation, and guess my way, helped with a topographic map. Finally, I get there, and begin the climb up the hill. I'm exhausted, but keep on pushing and am then gifted by a long but easy way down, with beautiful views, as I walk down around the "German Hill" towards Arrowtown. There, Mélinda welcomes me with Jacky, and after a quick river shower, I get to enjoy a wonderfully tasty victory beer. It took me 9 hours of walking to get here (only stopping for 5 to 10 minutes each hour) and my whole body is in pain.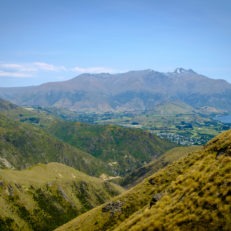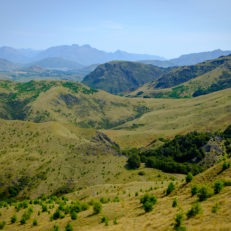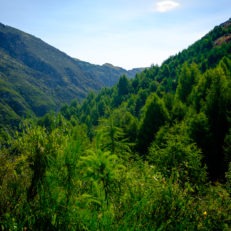 But I've done it! I'm proud of the adventure, overwhelmed by the display of nature that I had the chance to witness, and so happy about the calm and loneliness I could experience up on the trail. That definitely got me interested in thru-hiking such a long distance trail. Maybe an adventure for later, who knows 😇?
Whatever happens, that was a perfect way to spend my last day of the year, and be ready to start the next one with refilled energy and motivation! Even better, at the end of the day, we managed to pass through the Kawaru Gorge Where the mighty Argonath (Pillars of Kings) was located in the Lord of the ring trilogy. No need to say the peter jackson and Tolkien fan in me was delighted! Happy new year to all of you 🥳

#bucket-list
Hike the Motatapu track
Discover the ambient of the Te Araroa trail
Finish the year with a 9 hours walking day
Visit the Argonath
---