Of mossy forests and deep valleys
31.01.2020
@New Zealand 🇳🇿
day 133
Continuing our adventures and discoveries of the South Island, Mélinda and I decide to walk along a 4-day hiking loop, combining two existing tracks: The greenstone and Caples tracks. It is a great alternative to the usual Great Walks, although located just next to the Routeburn Great Walk, and often combined with it. The good point is that we get to camp wherever we want along the track, as long as we respect the freedom camping rules. Here we go!
On our way to the trail, we pass by yet another place of Middle-Earth. The land of Ithilien, a rocky and green delta where Frodo and Sam could witness their first Oliphaunt and meet Faramir, son of Denethor and brother of Boromir, for the first time.
'An Oliphaunt it was!' he said. 'So there are Oliphaunts, and I have seen one. What a life! But no one at home will ever believe me.

Samwise Gamgee — J.R.R. Tolkien — The Lord of the Rings: The Two Towers

The first day of trail goes smooth, through deep and mossy forests, with the weather on our side. We expect rain tomorrow, but we are ready this time. After a full day of hike, we pitch our tent in the middle of an old forest what could be straight out of any fantasy world of your liking. The sandflies are insanely agressive, but we put layer, start a little fire and spend a nice camping evening in the warmth and light of the flames. We are ready for tomorrow!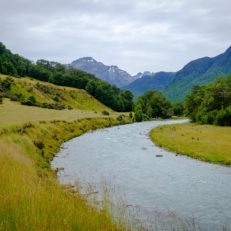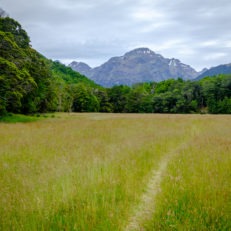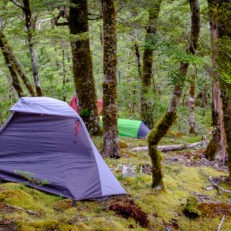 Rain is definitely here today! We have a rushed breakfast under the tarp of my tent and head on trail to at least keep ourselves warm. We climb up the rest of the way up to the saddle and are welcomed by clouds, more rain and a very mystical mood. Not many pictures today, the cameras are stored in their dry bags. In the afternoon, we reach the McKellar hut, and decide to camp close by. Sun suddenly shines brightly, and we get the opportunity to dry all our stuff! A welcome turn of events. We talk with the other people of the hut quite a bit, share experiences and stories, as the day goes by. Tonight we expect rain again. Well, let's brace for it, and that's with the sound of rain falling on the tent fabric that we slowly end our day.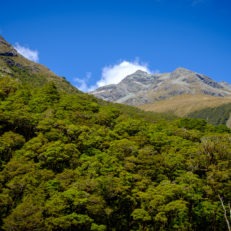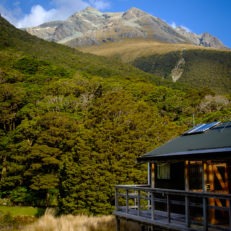 We wake up late, and take some time to let the tents somewhat dry before we head on the trail. Rain is present with us all through the day. Wide puddles and wet tree roots make our progression difficult and strenuous. The way feels longer than expected, and at several moments we hate ourselves for setting out in such weather.
We take some short breaks on the way, nibbling some nut mix, in the wind and rain, but keep on going to stay warm and reach the warm hut as soon as we can. Even if we just camp there for a small fee, we are allowed inside for the evening, which is mighty welcome in these cold and hard days. Thank you DOC!

We arrive at the hut cold, tired, hungry. Welcomed by a warm fire in the chimney and the company of a group of three girls hiking along the Te Araroa, we spend a very cozy meal and evening together. Sacha, on of the three lively we shared discussions with, updates her Instagram profile frequently, if you're not afraid of Russian and like beautiful pictures!
Last day of walking on that trail for us, cruising through a green and vivid nature , strengthened by the last days of rain, as sun makes his comeback from time to time along our way.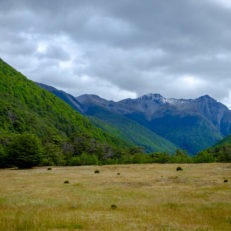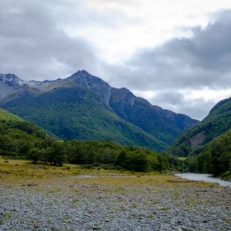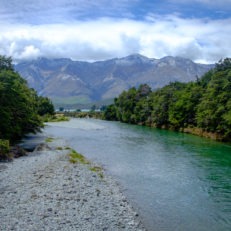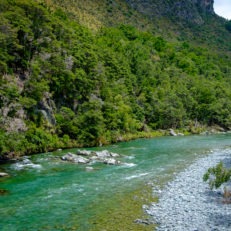 Jacky is there waiting for us in the parking, and on the way towards a well deserved burger, we even discover the place where sits the tower of Orthanc: Isengard! That's what I call a perfect day 😄

---